We are a highly skilled electrical contracting team in Asheville, NC that can solve all of your electrical wiring problems.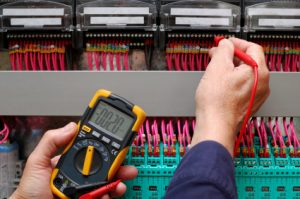 An electrical contractor specializes in designing, installing, and maintaining electrical systems in residential, commercial, institutional and industrial structures. According to a recent study, electrical contracting is a $130 billion per year industry in the U.S. There are many electrical contractors throughout the country who offer these services to their clients. These firms may subcontract from general contractors or work directly for owners. A qualified electrical contractor will have a license, be well insured, and will be able to provide performance and payment bonds for a reasonable rate.
An electrical contractor can also specialize in other types of work, such as a line contractor who works with high-voltage power lines, an inside contractor who works with structures, and an integrated building systems contractor who will work with lower-voltage systems such as industrial process controls, lighting, fiber optics, security, backup power, wireless networks, climate controls, and telecommunications. Electrical contractors in North Carolina are usually required to annually participate in continuing education, and HAYNES Electric Construction has an in-house apprenticeship program to ensure all our workers are well trained in the latest technologies.
At HAYNES Electric, we have a team of skilled electrical contractors and project managers who can solve all of your electrical problems. Call us when you are looking to add to, maintain or change the electrical system in your home or business. Call our service crews if you need to have wiring repaired or replaced; we can help 24/7/365. Our service area includes Asheville, North Carolina and surrounding counties. We have been in business since 1921 and hold license number 3-U. No one has more experience with electrical work. We offer 24-hour emergency service for those electrical incidents that just can't wait until normal business hours. Please contact us today for more information.
HAYNES Electric Construction
Fax no.: 828-254-1254
Call us Today!
(828) 254-6141
24/7 Emergency Service!