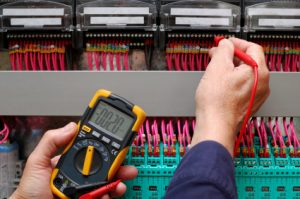 Before recommending a complete rewire, an electrician will perform a whole-house safety check. The factors he or she will consider include the condition and age of the wiring and the safety of the home. A home that has cloth insulated wiring or doesn't have a grounding system is a typical candidate for rewiring.
The first benefit is safety. A whole-house rewire eliminates any doubt as to whether there are existing electrical problems. Another plus is that insurance companies offer better rates for homes with new wiring. Better than anyone else, they know the dangers associated with old electrical systems.
Another significant benefit is comfort. Basically, the electrician is giving an older home all the conveniences of a new one – for example, three prong outlets, GFCI outlets, smoke detectors, plastic-insulated wire, and grounding. Also, this is the perfect time to consider installing dimmers and recessed lighting.
Then there's the benefit of increased resale value. You can add thousands of dollars to the value of a newly rewired home that's been signed-off by an inspector, whereas an unsafe, old electrical system is a huge red flag for potential buyers.
Whether you require an electrical upgrade or repairs, are planning a remodel or building a new home, commercial or industrial building from scratch, you can be sure you are dealing with an electrician who is fully trained, insured, licensed and inspector compliant by contacting us at HAYNES Electric Construction. We serve all of Asheville, Buncombe, Haywood, Henderson and Madison Counties.