Need an industrial or institutional project delivered on time, on budget, and with quality that surpasses your expectations? The vast experience of our skilled professionals, along with superior workmanship, places us far ahead of the competition. Need PM&E? Don't waste your time trying to find individual companies to get jobs done—instead, choose MB HAYNES Corporation. We will handle all of it or some of it! We have the resources to meet all your electric, plumbing, heating & cooling, security, energy, and construction needs. Whether your project is for a manufacturing facility, religious institution, medical facility, government or educational building, we can help you with any construction or service job your business requires.
H&M Constructors-Industrial Division is your local expert on industrial and institutional general contracting construction projects. Hospital renovations and process and manufacturing plant installations are our specialties. From machinery moving and metal building construction to plant & industrial maintenance and piping systems to critical invasive care unit renovations and medical use building construction, we make it happen on time and within budget. Let us partner with you on your next venture or critical repair.
When you have a building project, we apply our extensive experience and expert skill to deliver the very best results. We specialize in all types of traditional and metal building construction, including churches, schools, healthcare facilities, and more, in both Western North Carolina and Upstate South Carolina. Whether you need work done on a 1,000-square-foot government building or a 350,000-square-foot hospital, H&M Constructors can put together a team of professional contractors who will get the job done quickly, efficiently, and on budget.
With North Carolina's longest-running active electrical contracting license (#3-U) in our back pocket, why would you choose another company that has less experience? Our electricians have been working in the electrical contracting business for decades and can help you with any electrical, lighting, or wiring project, no matter how big or small.
Did a storm knock out your power and you need it back on as soon as possible to keep business going? Are you struggling to complete an outdoor job because you can't see well enough after it gets dark? HAYNES Electric Utility Corp. offers power line installation and repair, outdoor lighting systems, traffic signal installation, storm response, hole drilling, and more to keep your industrial or institutional business running smoothly.
We offer heating and cooling service for all institutional and industrial businesses, including geothermal heat, heat pumps, and more. We'll help you determine what type of HVAC system will work best in your situation and then help you put the plan we create into action. If your HVAC system isn't working properly, call us! We service all makes and models and offer customized preventative maintenance programs, as well.
No matter what kind of industrial or institutional plumbing job you are trying to tackle, we have the skill and resources to help. With an unlimited license and full bonding, we can handle any industrial or institutional plumbing job, big or small.
Is your business protected with state-of-the-art security and fire alarm systems? If not, you are taking far too big of a risk with your most valuable asset. Call us at HAYNES Technologies, and we'll give you peace of mind that your business and property are being watched over even when you're not around.
We'll help your institutional or industrial business save money and "go green", not to mention the tax incentives and rebates we can help you claim! We offer solar panels, hydroelectric power systems, generators, wind turbines, daylight harvesting, lighting upgrades and much more. If you want to dramatically cut your energy bills, call us—we've got the solution!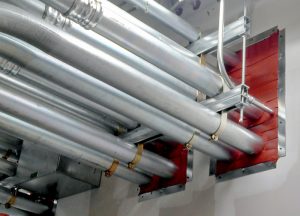 We are the local contractor for all your professional Firestop needs. We are UL qualified, an active member of the Firestop Contractors International Association, and an accredited HILTI Firestop Specialty Contractor. We are Firestop experts and stay updated with the latest technology and code requirement changes.
No matter what type of business you run, you can count on MB HAYNES Corporation for quality, integrity, superior craftsmanship, and competitive pricing.